We have quite a few readership base and out of the many questions we get when the newsletters go out is how can I lose weight, I make use of my mobile phone a lot surely there must be apps to help guide me through with nutrition and all.
Do you recommend any? The one that really comes in a lot goes like this. Alicia, Thanks for the article.
Enjoyed reading it.
I'm looking for something easy to do on my mobile phone when I'm less busy.
You have any idea what the best health and fitness mobile apps are for Android or iPhones?
I really don't mind downloading all you recommend.
That was a recent one I got. Now most people in quest for the​ best nutrition apps for their phones don't exactly put it that way but it's always closely related. I'm happy to announce.
The entire  team has decided to research on that and we've made it ours to find you the best there is.
Today we'll be sharing with you over 17 of the best mobile apps related to nutrition, health and fitness in 2018.
Most are available for Android or IOS, Whichever is… We'll specify to make things easier. Are you ready to see them?
1. Rise
With the Rise App ​you get a special nutritionists or better still a coach that monitors your progress and tweaks your diet.
Once Chad from California with the help of the Rise App was able to lose 30 LBs in 9 weeks.If you want to the best diet plan trimmed and outline just for you, Then consider checking out the app.
It costs about $14.99 per week and is only available on the IOS platform. Comes with tons of freebies and in-app purchases options.
2. SideChef
Trying to come up with an awesome recipe or making one even awesomer? LOL… You're in for a treat with the SideChef App.
Watching YouTube videos and navigating through web pages just to try an awesome recipe out makes everything totally boring, Might even slow you down, get your phone damaged and more.
That's where this app is a lifesaver. Comes with multi functional voice instructions to guide you. With this app it almost feels like you're a human is there to walk you through the new recipe you're trying out.
You can also tell this app to do various things like slow down and repeat if you feel you don't understand a section well. The good news is it's available free on Android and IOS. Grab it now!​
3. Shopwell
There are many calorie-counting apps out there. But the Shopwell app manages to rise above others in the game with the ease and ability to personalize almost anything the app does.
The app is available free on IOS and Android.
Once you have it, You need to input your details like age, height, weight and others, it then takes a look at different foods, scores and analyze them on what it thinks is best for you.
Great app for everyone.
It also recommends some great stuff you can eat for the betterness of your health.​ Brit.co also names it among the apps that makes eating gluten free stuff easy. Check it out.
4. Noom Coach
The noom coach app works similar to the Shopwell app other than the fact that it makes sticking to diet even better and more lively.
This app uses the great feature of spotlights. You know? Green is good and red is bad? With this app your foods are labelled.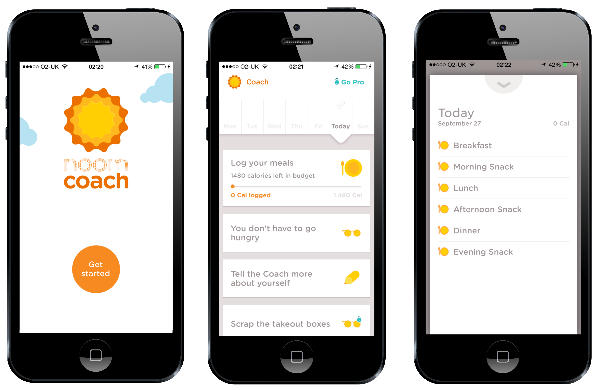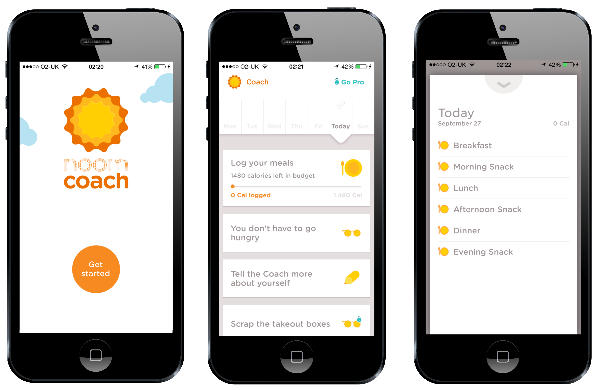 You get a green label on one? You know what it means and otherwise.
App users are called Noomers and there even is a challenge option where you can compete with other noomers. This is all for motivation and determination purposes.​​
This great app is available free on IOS and Android with optional in app purchases.
5. Lifesum
Lifesum is one of the best options for those with sweet tooth. (Junk lovers) Earlier on NR we discussed the immense benefits of eating healthy foods, Did you read it?
Lifesum is an app that will keep you in check always. This helps you get started by picking a diet/weight loss goal which is aligned to the S.M.A.R.T technique. To sum that up? An attainable goal.
The app then does its work by sending alerts and reminders to do the neccesary things for your goals like time to drink water, don't skip breakfast today and lots more.
App contains visual guides as well. Something you would love. Available free on Android and IOS with in-app purchases options. Enjoy.​
6. Fitnet
You have a schedule so tight you can't make time out for the gym? Fitnet might be able to help with that as that's what the app was made for.Talk about crazy and gent​le workouts, This app works it out for you.
However you want them, 5 minute or 7 minute super targeted workouts. This is made so as not to waste your time or anything while trying to achieve your fitness goals.
It also has a wierdly cool feature that​ uses your phone selfie feature to record some of the moves as you follow them.
The app is available Free with optional in-app purchases. Download on Android and IOS.​
7. Zombies, Run! Game
In just two weeks after releasing this app it became the top grossing in health and fitness apps on the i-store.
Why? It brings that Zombie sensation and sorta exciting fear to the user.
Imagine you're being chased by a couple of Zombie looking to feed on your flesh and blood, The only thing here is you aren't actually running from them cause they wanna eat you.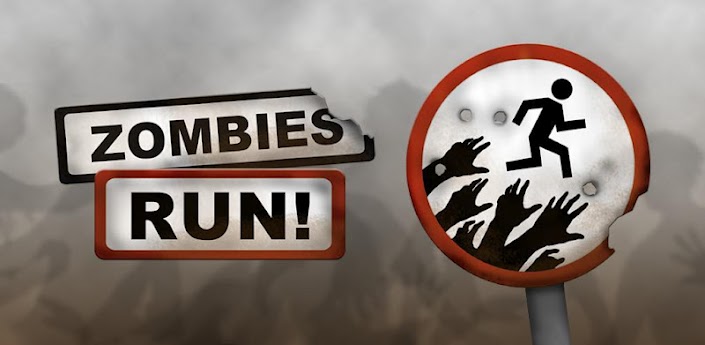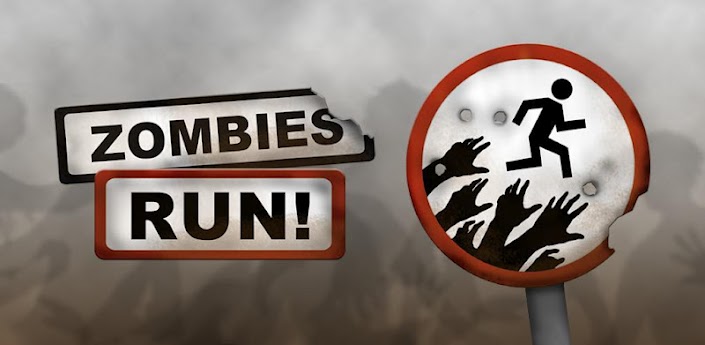 You're doing the whole exercise for your own weight loss and fitness goals. Contains missions, collect golds and lots of exciting elements to make running for​ fun for ya.
But we must warn you, You start spending the moment this game starts exciting you just like Candy crush.It's ​available free on IOS and Android platforms.
8. Yoga Wake Up App
Trust me there's no better way to start your day by doing something healthy and great for your body.
When its time to wake up, The app alerts you and prepares a ten minute yoga sequences you should do, What's more?
They are always different each time you wake up day to day,Whilst some focus on just meditation​, There are others that helps improve your fitness, body posture and more.
The only thing we don't like about this app is that it's only available on the IOS Platform.
Android users have alternatives and we'll bring it to you here in this article. Click IOS to download free now. In-app purchases options available here too.​​
8. Endomondo
Cardio and other physical activities just got better and more interesting using the Endomondo app.
It's as easy as anything! ​Set up goals for your physical exercises (Running, walking, bike rides even stair climbing) and let your app determine how you'll go about it.
Endomondo often gauge your activities and tells you if you need more of your exercise or right on track.
This very useful is free with optional in-app purchases, Download on IOS or Android now.
9. Daily Yoga
This has to be the one. The perfect alternative to Yoga Wakeup for Android phone users. This particular app is one of the most popular apps teaching yoga with over 50 lessons shot and made available in HD.
Just like yoga wakeup there are area of focuses in these lessons and most of it are related to meditation, poses for better body structure and more.
There are also 500 other videos on detailed yoga poses at your disposal with this app. Available free on IOS and Android with in-app purchases options.​
10. Strong Lifts 5×5
With this app the days of carrying writing materials to the gym to jot down your numerous exercises are typically over. This app helps record everything.
So worry less about those and focus from getting results from your gym workouts. Here's a guide from V​isual.ly to understand how better this works.
The app is available free on IOS and Android with in-app purchases options.
11. Spotify Running
There are big chances that you have the Spotify app installed on your mobile phone at least if not for fitness purposes.
Here's what the Spotify running app does: It measures your pace and selects a song that goes with it, Your heart beats. It's like music that match every steps.
You'll agree with me that playing music during workouts enhance performance and makes it more interesting. Well the Spotify app will make it even more interesting for you.
App's available Free on Android and IOS​ phones.
12. Start
Are you suffering from depression? Or know someone that's suffering from depression? Then the start app might be a great option.
This app hel​ps track progress to things that matter to you. To sum it all up? This app makes getting out of depression easier with it's included depression tests, progress tracking and if your medications are working well or not.
This app also tracks your mood, pill times, side effects and tons more.​Overall this is a great app. It's available on IOS only.​
13. Happify
Happify is a science-based activities and game for stress and anxiety relief app.
How you feel matters. Whether you're feeling sad, anxious and stressed, or you're dealing with constant negative thoughts, Happify brings you effective tools and programs to take control of your emotional well being.​
Happif​y works and is available for free on IOS and Android with in-app purchases option.
14. HealthTap
Healthtap is an app like no other. When you're in some kind of mess with health related issues and don't know what do, How does talking to a real person instead of going over to Google sounds? Great yeah?
That's exactly what Healthtap does.​
The app sends your health related questions to doctors who would reply within a few minutes or hours. The app also comes packaged with a huge library healthy living tips and advice.
The app is available free on IOS and android with in-app purchases. You can also opt-in for the prime membership which costs $99 for more care​ and fast answers to your questions.
15. Deep Sleep With Andrew Johnson
Finding it hard to get some sleep? Then you might wanna try out this app.
Comes packaged with Andrew Johnson's melodic voice which will help you find sleep quickly. We've tested this, It works :)​
App costs $2.99, Available on IOS and Android​
16. Talkspace
You know an app that can get you to chat with a professional therapist for a measly $25 per week?
For that amount you have professionals ready to help you at your disposal. Services are available for individuals and couples. Think of it this way. Going to therapy without leaving your house..
Sounds great eh?
This app is available on IOS and Android. Comes with optional in-app purchase options as well.
We've handpicked and recommend these fitness apps for android and IOS users based on multiple tests and reviews we've read online.
If you're looking to get engaged in your free time or make serious progress with your fitness journey, Then this list of apps might be the best way to go.
It's not necessary to install all.​ Just a few you think will work well for you and best describes what exactly you're looking for. And with that we've come to the end of this article.
Hope you've enjoyed every tinnie tiny bit of it, If yes please pass it on to your friends using the share buttons below and do not forget to let us know what you think using the comment form below.
If you think we've left one great app out too, Feel free to tell us in the comment section.